Accept payments anywhere, anytime, always
Did you know that your business can quickly and securely swipe any credit or debit card for processing on a smartphone or tablet? It's easy, affordable, and a great solution for many different types of businesses. Read this article to learn more about:
What a mobile card reader is
What kinds are available and how to choose
How it works
What features matter
What the benefits are
What to think about/consider before purchasing
---
What is a mobile card reader?
A mobile credit card reader is a pocket-sized attachment for a smartphone or tablet that enables credit card processing.
You may have seen one that looks like this: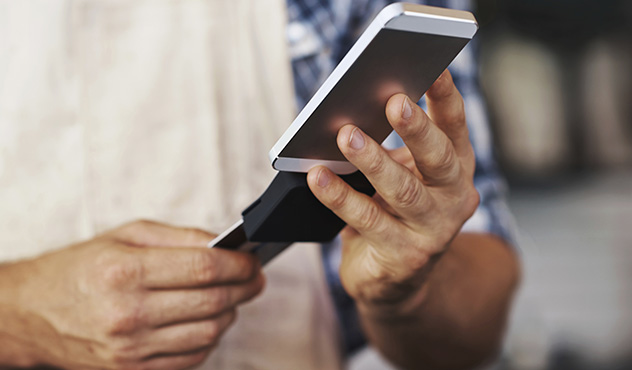 or this EMV version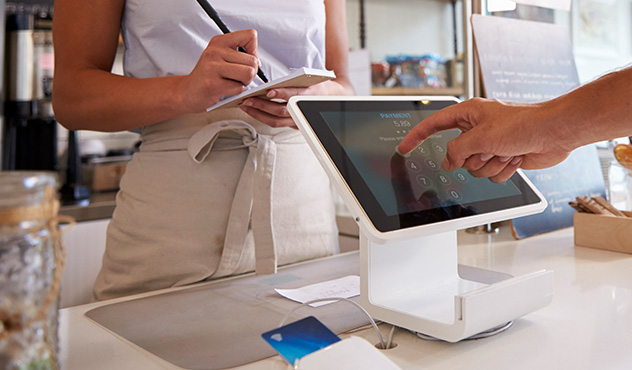 or this Bluetooth version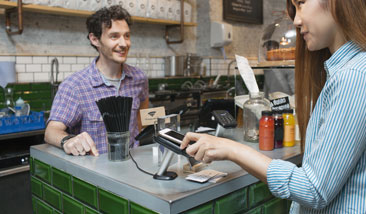 ---
How mobile card readers work
Mobile card readers allow a user to process payments without traditional payment hardware like a credit card terminal or point of sale (POS) system, and in some cases, without a merchant account.
The hardware
The hardware components of smartphone readers can vary. Some are basically a magnetic stripe reader that plugs into the audio jack or charging port of a smartphone or tablet. The user swipes the card through the magnetic stripe reader to enter the card info into the associated app on the phone or tablet.
Others connect the card reader to the phone and app via Bluetooth technology. The user pairs the device to the phone and then swipes the card.
Newer mobile card readers also use a chip reader to meet the EMV standard for fraud prevention when accepting cards with an embedded data chip. This version substitutes the magnetic stripe reader with a chip "dip" slot. When accepting a chip card, the user inserts the card into the device and leaves it during the transaction instead of swiping.
Mobile card readers are generally programmed to work with a specific payment provider. It's a good idea to pick your payment partner, and then get the reader device, since a device you buy independently isn't guaranteed to work with your chosen provider.
The software
The software is generally accessed via mobile app. The user opens the app, enters a dollar amount to be charged in the sale total field, and swipes or dips the card to process the payment.
Then, the user is asked to sign their name (with a finger or a stylus) right on the phone or tablet, and may have the option to request a printed or emailed receipt.
Most providers charge for the device, not the app. But some will require a merchant account in order to process payments. All options have associated payment processing fees. Read along for more details about the costs.
---
Mobile payment card readers have a lot to offer
Between their versatility, their mobility, and their small size, mobile card readers are a powerful addition to payments technology. There isn't just one type of merchant who uses mobile card readers. Different types of businesses have different uses for mobile card readers. Let's explore.
The brick and mortar location merchant
Businesses that have a physical brick and mortar location have several uses for tablet and smart phone card readers.
New businesses with an unkown transation volume amount
This type of merchant may be hesitant to purchase expensive POS equipment and enroll in a merchant services account since they're just getting started. They may need all of their cash to fund other start-up costs like inventory and space rent.
A mobile reader is a great stop-gap solution for hesitant and/or brand-new merchants. It will allow the merchant to capitalize on the benefits of credit card acceptance without much risk or upfront investment. It can also help establish a base-line of transaction frequency and volume that can come in handy during rates negotiations for a longer-term solution down the road.
An established merchant with a known average sales volume and a steady credit card transaction history may determine that the low cost and simplicity of mobile card payments is a good long-term solution.
This type of merchant likely doesn't have a need for other business technology solutions that POS systems provide like inventory control, employee scheduling, and customer loyalty programs. With modest sales volume, manually reconciling cash with the credit card receipts isn't a time-consuming burden for this merchant.
Established businesses with a tethered POS system
Some businesses with a brick and mortar location already have a POS system or credit card terminal, but occasionally do business away from their physical business storefront or restaurant. Consider seasonal events like street fairs, off-site concerts, road shows, or other special events. Before mobile card readers, these types of events required cash-only sales, which can greatly reduce overall revenue.
With a mobile card reader, the business can take a credit card payment away from their brick and mortar location with no hassles.
The homebased business owner
A homebased business owner using a mobile smart phone card reader likely doesn't have the kind of business model and/or sales volume that requires a brick and mortar storefront, employees, or cash register. They want to take credit card payments once in a while, without the hassle of establishing a standard merchant account and stationary payment system. And they aren't worried about scalability at this stage.
The service provider
Service providers may be a mix of the above merchant types. They can be homebased, or working out of a physical location; they might have low sales volume with high dollar tickets, or any other combination of factors. They're worth calling out separately because of the likelihood that they'll need to take a payment away from their business office, or they may operate entirely without a centralized business office.
Consider service providers like:
Real estate inspectors and appraisers
Building contractors
Massage therapists
Tutors
Hairstylists (and other booth renters)
Movers
Carpet cleaners
Babysitters
Housekeepers
Pest control
---
Considerations for purchasing a mobile card processing reader
If you think a mobile credit and debit card reader is right for you, how do you know which one to get? How do you sign up and what are the costs? The answers to these questions are strongly related to the business types listed above. Read along for more insights.
Features that make mobile card readers great
EMV
Although you can buy a basic mobile credit card device, it's a good idea to buy one with the latest technology—particularly EMV. EMV functionality allows merchants to safely accept chip cards and avoid liability for fraud that may occur with those cards. As with other EMV-enabled terminals, an EMV mobile card reader can accept magnetic stripe cards as well as the newer chip cards.
NFC
Near Field Communication (NFC) capability enables digital wallet acceptance like Apple Pay and Android Pay. With an NFC-enabled card reader, a customer can simply tap their smartphone with a digital wallet to the card reader to execute a secure mobile payment. NFC and EMV are often offered in tandem, so the slight increase in cost between a magnetic stripe reader and an NFC/EMV is easily justified by the fraud protection and customer convenience you'll get.
Service
One of the most important though often overlooked features of a mobile card reader is the customer service and technical support available to the merchant. If you're adding mobile acceptance to your standard merchant account, the customer support available to you shouldn't differ from your normal service. But if you're considering a payment facilitator/aggregator, be sure to ask about customer service availability. One of the biggest complaints from one of the most popular providers is the difficulty customers have had in receiving effective and responsive customer support. Make sure you'll be able to reach a knowledgeable support representative by phone whenever you need help.
Bluetooth
Bluetooth is another highly-desirable feature for mobile readers. Many business operators use their mobile phone or tablet for other purposes besides processing credit and debit cards. Plugging the device into the phone or tablet for every transaction can be annoying. Additionally, some plug in versions may feel flimsy and awkward when swiping the card. A Bluetooth compatible device tends to be more substantial while remaining small and unobtrusive.
Dock
If you plan to use a tablet with your mobile card reader, you may want to consider a docking station. Some solutions are substantial enough to resemble a tablet-based POS solution when used in conjunction with a docking station. In addition to providing more physical stability, they can also tap into a provider's "storefront" solution enabling multiple devices and apps to run in concert with the payments app.
Mobile card readers from Midwest Payment Processing
offer the best of everything
Midwest Pay's mobile credit card readers come in a variety of styles. We power our readers with a robust processing service and always-on customer support. No matter what your business size or style, we have a mobile solution for you.
Midwest Payment Processing's card readers deliver big benefits:
Accept EMV chip cards, magstripe card payments, and NFC/contactless payments
Take greater control over receivables—no waiting for invoice payments
Cloud-based inventory for easy selection
Apply discounts, tips and applicable tax
Offline mode to process transactions without wireless or cell service
User analytics track tips and payouts
Compatible with smartphones and tablets with iOS 5 and up, and Android 2.1 and up
Authorization responses directly on your mobile device
Review past transactions
Issue returns and offer refunds upon request
Multiple reporting options, including exporting